Discover more from Declarations
A biweekly newsletter by artist/writer Declan Shalvey
Over 2,000 subscribers
ALL THE LATEST
-It's all-go at the moment [yes, i know, when ISN'T it, Shalvey???] but I can see the light at the end of the tunnel. No, not death, reaching the end of this OLD DOG ARC, which should soon free me up a bit more.
-I'm away to Spain on Thursday! Off for a family event in Malaga but reached out to the good people at Comic Stores and will be doing a signing there on Friday. Anyone in that region subscribed to Declarations…? Well, hope to see ye there if so.
-Last week I handed in an outline for a Marvel short [calling PROJECT FEAR for now] which has been approved. Marvel have locked in a fantastic new artist, I can't wait to see what he'll do.
-A great artist reached out to me, asking if I wanted to pitch a work for hire thing. In general, I've given up pitching writing stuff to companies unless I'm drawing them, but this guy is so good and it'd be something I'd really enjoy so it'd be worth trying. Might put out some feelers and see if there's much of a chance.
-My signing at Forbidden Planet Glasgow went great, everyone was really nice even though I had to ask everyone to repeat themselves because, Jesus Christ Glasgow, that accent is hard work! I know I'm not really in a place to criticise, but still!
Really though, it was great. Lots of copies of OLD DOG, ALIEN and MOON KNIGHT were signed. I'm glad I was finally able to make this happen after the store had been asking for so long. I'm hoping to hit a couple more FP locations before the year is out, likely around when the OLD DOG TRADE is out.
-While in Scotland, I took a couple of days to meet up with an artist friend who lives over there, someone I've have long wanted to collaborate with on a creator owned project [we did a work for hire short in the past]. We looked at a lot of art inspirations and spit-balled some stuff back and forth. I very much want to write something for him, that showcases what an amazing artist he is. We managed to come up with a really cool idea, and really flesh out some concepts. Content with that, we hung out a bit [may have gotten a little drunk at some point] and then… come up with a whole new idea and ditched the previous one! I was very happy to leave Scotland knowing that the shape of the concept is worked out, the artist in question is a wonderfully creative thinker so it's going to be interesting to work off him more than I've worked off an artist before. Still a lot of story work need to be done, and then get a pitch together s will start digging into that at the end of the month. Will refer to this as PROJECT ARCA in future.
-I had to pull out of a European festival last week. It was happening pretty soon and I was really looking forward to it, but finishing OLD DOG in time was becoming more of a concern, so had to pull out. Was very disappointed as I was really looking forward to it. Now; I realise I'm the bad guy here as I'm bailed on an event I agreed to go to but boy, a couple of the organisers were real dicks about it replying with comments like "your behaviour cannot be possibly excused." Because of the scolding tone of the response I went from feeling bad, to being more 'up yours pal' about it in my mind. I HATE to bail on events but it does happen where you agree in good faith, but stuff happens in-between that you just can't account for. Guess I'm ever going to that country!
-In happier news, STAR TREK #400 has been nominated for an Eisner Award! The bumper issue featured an O'Brien/Garak story by myself and Seth Damoose. Probably the closest I'll ever get to inning an Eisner so any pros reading this, do me a solid and vote here. Deadline is June 9th. Keep in mind, I will see stats from the amount of people who clicked on this link so yes, I will be judgemental about how many click-through to vote for me. Hey, I never thought to do that for the Ringo's a few weeks ago! Ah, whatever…
-Speaking of votes, I've got results from the recent poll! Firstly, I just want to say I really enjoyed the comment feedback i the last newsletter, more involved than any previous Declarations and was fun to hear from you all. Now, on to the results…
I have to say, I found this very surprising! I fully expected a Marvel/DC project to get most votes, not the least! Okay, it was just 213 people who voted but still, interesting! I'm certainly very happy to see so much support for creator owned work on here, that's really amazing. Food for thought! Both creator owned ideas I've previously teased are graphic novels/novellas so if I go that route, not sure how I'd make a living while doing them. Maybe do paid posts on this newsletter? Dunno if that would keep the lights on. PROJECT MINER is next on my docket, that's a Marvel project that I'm writing/drawing that will be approx 20ish pages and I want to work on that PROJECT ARCA idea. I think I'll put out feelers for a work for hire pitch just to see what's out there. In the meantime, I'm going to mull over the next OLD DOG installment and take a look at one of those novel/novella ideas. Maybe do another poll to pick between the two, polls are fun.
-My cover or RIBBON QUEEN #2 is in the world! Someone at the Glasgow signing saw the original art for this and winced, which means I must be doing my job okay. Got my cover for Issue 4 done a week or so ago, will have to get moving on the next cover when I get back from Spain and wrap OLD DOG.
-Writer Kyle Higgins and co have been killing it on all things RADIANT BLACK for the past couple of years but they're doing something very cool at the moment; readers get to decide the future of the book in a very "A Death In The Family" way. The Massive-verse have been consistently doing impressive and innovative experiments with the series leading up to the imminent Catalyst War including now being able to decide who will be the protagonist for the future of the series. I honestly don't know where Kyle and co find the energy to do this stuff but I find it so impressively cool. Go choose WHO WILL BE RADIANT BLACK at this link and have some fun, it's comics after all.
Thanks for reading Declarations! Subscribe for free to receive new posts and support my work.
---
OLD DOG
Not a whole lot to say on OLD DOG other than I'm trying to just concente on drawing it at the moment. I'm neeeeeeearly done, doing as much as I can before I fly out this week but have to put it aside while I'm off in Spain. Will wrap the last few pages when I get back, then jump into colours.
---
ALIEN
Issue Two is out this week and I only recently saw this stunning Felipe Massafera 1:25 variant cover for it. Hoo boy!
The issue turned out wonderfully. Just to show what a dedicated professional Andrea is, here's a peek at some of his process.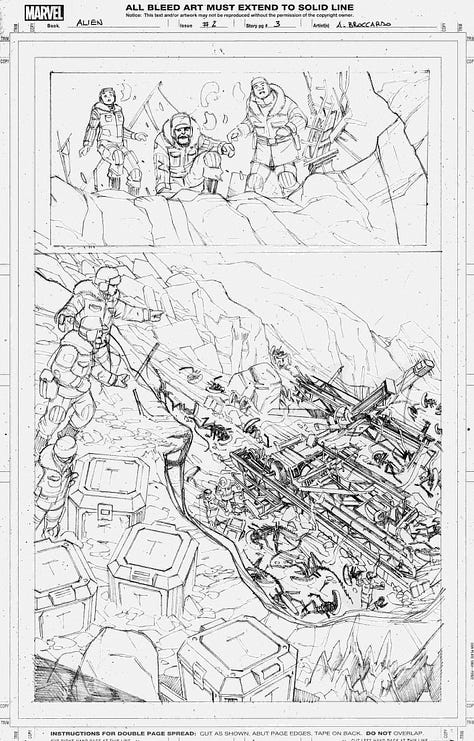 The first image is Andrea's pencils for a big reveal in the opening sequence. It looked great, but I felt that the crater needed a lot more Xenomorphs to really hit the mark. The second image, is Andrea's edit but of his own choice he decided to rework the main figures too, for a more dynamic reaction. It's not something I would have asked for but it's great, was the right call. Hats off to him for really going the extra mile, even when not asked! For good measure, the third image is his sublime inked page. Wanted to show this as I love his inks, the quality of which sometimes aren't as noticeable when coloured.
That's the kind of love Andrea is putting into this, as it's his dream book. Me, I'm just in it for the money :P
Issue Five was solicited recently, below are the solicits and cover. Funny story, cover artist Dike Ruan gave the male character Dayton two arms, so I had to go in on Photoshop and remove one myself, as he wasn't available when it needed to be edited for Matt Wilson colours. Go teamwork!
ALIEN #5

(W) Declan Shalvey (A) Andrea Broccardo (CA) Dike Ruan

ONE LAST CHANCE TO ESCAPE THE THAW!
With secrets revealed, loved ones lost and Xenomorphs engulfing the base - for a moment, Zasha thought all hope was gone. However, when a familiar face arrives in the form of a savior, the two set off for one last-ditch effort to escape the moon. The foes they will face - human and alien - might be their end, but just because the moon's ice has thawed to reveal the horrors beneath doesn't mean Zasha will let herself sink without a fight!
Rated T+
I just saw this fantastic Michael Walsh variant for Issue Three. Brilliant stuff.
I did an interview with Comic Book Resources about ALIEN, go check it out, it has some exclusive preview pages by Andrea Broccardo and Triona Farrell.
Writing-wise, had to give my 6th issue a bit of a tweak but it's all good now, should be with the artist soon. With that, I have to dig into the next arc, first issue is due soon enough. I am swamped pencilling/inking OLD DOG right now so I'm going to write it while I'm away in Spain this coming week. I can't draw on the go, but I can write on the go. Will get some relaxing-time in while I'm away, but will definitely need to work a bit too.
Looking forward to Issue Two coming out, as things start to heat up on the ice planet, pun intended.
---
TIME BEFORE TIME
Issue 23 came out last week, the final part of our fourth arc and man, what a finale!
This utterly stupendous spread is a series highlight for sure, but also wanted to show Jorge's inks as they are spectacular in their own right.
With the latest arc wrapped, it's soon time for our final one-shot issue, with art by the fantastic Will Morris, whose GOSPEL series is due out on June 21st, coincidentally the same day as this one shot. So go get both!
#24 B cover by Will Morris
I cannot stress how any of you not getting the series already should just pick up this one-shot. Done in one story, feels really special.
Geoffo is currently drawing #27, and it's about time I show you all one of his pages!
As mentioned before, this will be the final arc of TIME BEFORE TIME. Geoffo is a genuine fan of the series so it's great to have someone so energetic take us to the finish line. He's littering this arc with cameos, the above page featuring a cameo by… yours truly! Getting a smack to the face, like I deserve. no doubt.
---
PROCESS
I shared some of this process on Twitter, I meant to do it here first but lost track of when the cover was coming out so let me dig in more now.
Editors of the STAR WARS line asked if I wanted to do a variant for DARTH VADER: BLACK WHITE & RED and I immediately said yes. Great opportunity to try come up with an iconic type cover with that character and that colour scheme.
Roughs. Here's the two I gave to the editors, both the same concept essentially, but two different approaches. I was happy with both [I had a third I wasn't liking so didn't finish it/hand it in, in case it was selected] so didn't mind which they went for, though I did like the first one more by a nose. Which, is the one they picked!
Here's the pencils. Not the most complicated cover, though it is hard to nail Vader sometimes. Iconic costume but if not drawn right, can look goofy. I loosely drew in the clouds as I knew I's have fun with them in the inks. Man, I need to give my scanner a proper scrub.
Inks. I wanted the black of Vader's helmet bleed into the clouds without getting lost and I think I accomplished that.
Work in progress… this is the cover flatted with all the elements in block colour. Little bit of paint texture in the foreground too.
Colours. Big of a diffusued effect and gradient in the foreground, sublte dark grad and render in the clounds/sky. Colour hold on the lightsaber, mountains and glow where the saber hits the snow. Some white blast paint on the saber effect, painted the mountains a bit and of course, the red light on Vader.
Final version. My goal to have Vader melt in with the clouds backfired on me as Lucasfilm weren't into it and wanted Vader's helmet to pop out more. I tried a middle-ground of some kind but it wasn't enough, so we settled on this, where I painted a colour hold on the clouds in the distance, halo-ing Vader more. I took the opportunity to lighten the colour hold on the mountains to puch them back a liiiiitle more. I was slightly frustrated at the time with the helmet thing as I was going for something specific but honestly, I think it looks good. Well, everyone else seems to really like it, so I'll just agree with them.
---
DEC RECS
THE HUNGER AND THE DUSK
Written by G. Willow Wilson
Art by Chris Wildgoose
Published by IDW
Chris Wildgoose is an artist whose work I was initially impressed by a few years ago and have always tried to keep tabs on what he's doing. I must have lost track as I only recently found out about his new book with G. Willow Wilson called THE HUNGER AND THE DUSK, which I managed to get an advance peek at. I think the FOC was yesterday, but do order this book from your local retailer as it is just beautiful. A really engaging read [written by an Eisner-winner so you can't go wrong] that pulled me in quickly which is really saying someting as I am generally not a fan of the fantasy genre. It's just a really enjoyable read from story to art. Order it now so it sells out fast!
---
OUT SOON
May 31st
ALIEN #2 [W]
June 14th
OLD DOG #5 [W/A/Col/C]
June 21st
TIME BEFORE TIME #24 [W/C]
June 28th
ALIEN #3
---